Point...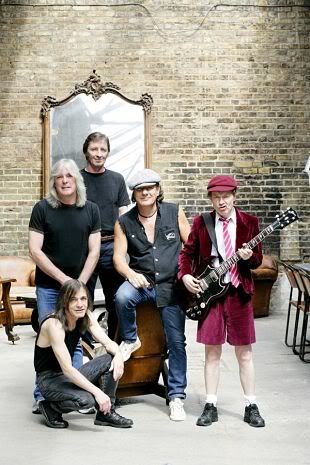 I agreed with the Internet prognosticators when they said the new AC/DC album,
Black Ice
, would suck (and thereby result in disappointing, lack-luster sales). All the evidence seemed to substantiate their predictions.
Exhibit A.
It has been eight long years since AC/DC released a studio album. Three years or more between albums is an omen. After eight years between recordings, they affectionately call you
Boston
. "Strike while the iron's hot," they say. Uh... Well... after eight years, how hot can the iron be? At this point, you have to ask yourself, "Does anyone care anymore?"
Exhibit B.
A band entrenched in a studio environment month after month is not "throwing it down". Their creative process tends to stagnate rather than flourish. Their focus shifts from spontaneity to perfection. Ultimately, it's the music that suffers. It becomes a victim of revision and refinement. Under these conditions, the music tends to sterilize. It loses its life, its energy and its edge – the key ingredients of good music, regardless of genre.
Exhibit C.
In 2005, rumors began to circulate that the new AC/DC album would be a double-disc affair (slaps forehead). Even in the world of rock 'n' roll excess, it is possible to have too much of a good thing. The general rule is this: a solid double album, if condensed properly, yields a monster single album.
On whether there was any truth to the report, AC/DC lead singer Brian Johnson later clarified:
I said the other day to somebody, I said, 'Jesus, we've written enough songs, it could be a box set.' And Columbia Records got on the phone and said, 'Don't ever say that. Don't ever say that again.' [Laughs] 'These people will be expecting one.' I said, 'I was kidding.' I think it's basically the fact that the guys wanted as much down as possible just so we could pick some gems out. And the great thing is, there'll be a load of songs left over for something in the future – you never know.

If it pleases the court, the people request that Exhibit C be withdrawn from the record. Thank you.
Exhibit D.
It was announced that AC/DC's
Black Ice
would be a Wal-Mart exclusive. Loosely translated in English, "Wal-Mart will sell the product because no other retailer will touch it... cuz it sucks!"
Exhibit E.
A week before its official release (Monday, October 20, 2008), Columbia Records reported that AC/DC's
Black Ice
was illegally downloaded in excess of 400,000 times. With numbers like these, who's left to buy the album?
Counterpoint...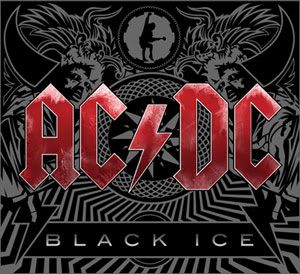 Now that the week has passed, I admit it. I was wrong – way wrong. The new AC/DC album
Black Ice
is the best thing since 1983's
Flick of the Switch
. MrMudPuppy gives it two enthusiastic flippers straight up. As for sales concerns, I have statistics - statistics of epic proportions.
Exhibit A.
Released globally on Monday October 20, 2008, AC/DC's first new studio album in eight years,
Black Ice
tops sales charts in 29 countries, including the United States, the United Kingdom, Germany, Canada, France, Argentina, Japan, Australia, Belgium, Finland, Ireland, Italy, New Zealand, Norway, Sweden and Switzerland.
Exhibit B.
In the United States,
Black Ice
has sold more than 780,000 units its first week of sale, marking the band's first ever debut entry at No. 1 on the album charts.
Exhibit C.
Over 5 million copies of
Black Ice
have been shipped worldwide, combined with close to 5 million in back-catalog sold this year, the band is poised to sell over 10 million albums during 2008.
Exhibit D.
The anticipation of a new AC/DC album and tour has ignited back-catalog sales. In the past eight weeks, AC/DC's back-catalog sales have exceeded 800,000 albums worldwide.
Exhibit E.
"Rock 'N' Roll Train", the first single from
Black Ice
, has topped U.S. rock radio charts since its release in early September. What's more? Sirius-XM Radio is also celebrating this exciting new chapter in the band's history by creating "AC/DC Radio", a 24-hour station devoted to playing the band's classic rock songs and exclusive interviews with the band. "AC/DC Radio" will broadcast until January 15, 2009.
Closing Arguments by Angus Young...
Angus Young (circa 1995):
I'm sick to death of people saying we've made 11 albums that sound exactly the same, In fact, we've made 12 albums that sound exactly the same.
That's right. When purchasing an AC/DC album, you know exactly what you're gonna get - straight-ahead, blues-based hard rock courtesy of a band that doesn't take itself too seriously. Hallelujah! Great job lads. I never doubted you for a moment.
The first leg of the Black Ice World Tour kicked off tonight (October 28, 2008) in Wilkes-Barre, Pennsylvania. The tour will run through April 23, 2009, ending in Birmingham, United Kingdom.